President Trump has  recognised as President of Venezuela, a man  who  has never stood for the Presidential  role  but who presides over  the Venezuelan  national  assembly: Juan Guaidó— a man  who  the New York Times (1/22/19) describes as "virtually unheard-of"—and who has now – at  the behest of the Trump administration- proclaimed himself the country's new leader. Guaido  was elected President of the National Assembly of Venezuela in December 2018, and was sworn in on 5 January 2019.  He appears to  have strong links into  the American  neocon  'thinktank'  and policy   systems and strongly supports  the United States  re- taking more ownership  of Venezuela's extensive oil  reserves, (the largest in  the world)  and the privatisation of many state-run  services which  currently fund health  and welfare  in Venezuela.  In  addition,  according to  ConsortiumNews,  he hads a long history  of involvement in  the violence associated with Popular Will party  which   formed the shock troops of the guarimbas that caused the deaths of police officers and common citizens alike. He had even boasted of his own participation in street riots. And now, to win the hearts and minds of the military and police, Guaido had to erase this blood-soaked history.   According to  Consortium News, Within 48 hours, Guaidó quickly tried to seize control of Venezuela's major US-based oil refiner and use its revenue to help bankroll his US-backed coup regime.  Guaidó is attempting to fire the directors of Citgo Petroleum, which is owned by Venezuela's state oil company PDVSA, and seeks to appoint his own new board……This plan would involve the creation of a "new hydrocarbons agency" that would "offer bidding rounds for projects in natural gas and conventional, heavy and extra-heavy crude." In other words, these are rapid moves to privatize Venezuela's oil and open the door for multinational corporations. As David Pear notes- this is essentially a racist  white supremacist  counter-revolution 
The current President of Venezuela is Nicolas Maduro,  who  was  re-elected in  a disputed election ( ie some of  the opposition parties  chose not to  run  a candidate and then disputed the election)  in January  2019 . Maduro has used increasingly repressive measures to  maintain  his powerbase and repress  opposition, whilst  confronting increasingly violent  opposition groups.  Telesur (a news agency funded by the Government of Venezuela and  other governments such as Cuba, Nicaragua, Uruguay, and Bolivia ), notes that the 'National Assembly has been in a situation of contempt of court for almost two years. After the election of deputies in December 2015, the United Socialist Party of Venezuela (PSUV) candidates in Amazon State filed a complaint because their opponents had purchased votes to win the election. The court subsequently condemned the fraud and the Electoral Power Tribunal demanded that the election for these three seats be redone. Since the Speaker of the National Assembly refused to comply with the judicial and electoral authorities, the National Assembly was declared in "contempt of court." Decisions and votes emanating from the legislative power are therefore null and void as long as the speaker of the National Assembly fails to authorize the return to the polls."
The United States has implemented wide-ranging sanctions against the  Maduro  administration since 2014 ,  claiming that it is a dictatorial regime. The sanctions ,  along with  declining oil  prices and to  a lesser extent, structural  failures by  the socialist  Bolivarian presidents, Chavez and Maduro  administrations ,  has resulted in  an  economic disaster for Venezuela,  with  rampant inflation  and high  unemployment . The working classes and peasants who  formerly supported the Maduro  government because of its extensive redistribution of state owned oil  wealth  and its  health and social  policies, appear now to be  increasingly angry  with  the Maduro  administration for the economic failures they have recently endured.  Mainstream  media in  the West  and many Western  politicians are now able to  insist that  it is solely the  socialist  agenda of the Chavez/Maduro  administrations  that  has caused this economic crisis, while  ignoring the very  deliberate attempts by  the United States to de-stabilise the country  over an extended period of years via sanctions and supporting an  attempted coup  in 2002,  and using its pressure with other Latin American  states to  isolate the Venezulean  administration.
The United States and its Western  and Latin American 'allies'  have a desperate need to  invalidate the socialist  wealth  distribution policies of Venezuela;  both  to  ensure its corporate elites, the "comprador",  continue to  receive their 'rightful'  incomes, and bank  accounts in  Miami , but also  to  ensure that their home populations do  not begin  to understand that  state ownership  and wealth  distribution is a very  valid and effective method to ensure a  sustainable and fair world. (where would we be -God forgive!!-if we had an equitable, efficient, sustainable   and accountable economic process that  ensured a country's assets actually returned to  all  of its population?)
 The appointment of Elliot Abrams by  the Trump  administration to  coordinate 'diplomatic'  efforts to  replace Mafuro is a clear indication of the regime change efforts of the United States. The contemptible Abrams was heavily involved in  the  coordination of terrorist activities by  the  Reagan  era contras in Nicaragua and El Salvador, and would clearly be  a key contender for  long-term incarceration if there was in  fact a neutral   international  War Crimes Tribunal. As the Guardian  article on  the 2002 notes:  the crucial figure around the coup was Abrams, who operates in the White House as senior director of the National Security Council for 'democracy, human rights and international opera tions'. He was a leading theoretician of the school known as 'Hemispherism', which put a priority on combating Marxism in the Americas.
What  Guaido and his American  neocon  advisors seem  to fail to  understand,  is that his possible ascension to  the Venezuelan presidency  ( a re-run of the coup  of  the U.S.  2002 attempted coup ), while  allowing the US regime to  remove sanctions and its stranglehold over the Venezuelan  economy,  will  inevitably lead to  a nationalist  backlash  in Venezuela as it becomes clear that  the majority of the country's resources are being sold off  to  US corporates and the IMF,  with  possible negative implications  for the  recently installed intellectually impaired Bolsonaro  extreme right wing administration  in neighbouring   Brasil-as it becomes clear who  is pulling the strings in  that  country.
In addition,  as the centre of global  power inexorably moves from  the United States to  China , Latin American  states aligned to  increasingly erratic  and violent U.S. corporate and  state imperialist  ambitions, will  find themselves isolated.
What  is also  equally disturbing is the alacrity which  which  EU nations have fallen in line behind the United States' sponsored coup  in Venezuela. Their insistence on  interference in  another country's domestic issues and their pronouncements on who is the 'legitimate'  ruler of Venezuela do  not bode well  for human  rights and the international  rule of law.
Postscript: Stansfield Smith  at  Covert Action lists  a damning history of U.S.  intervention  in Venezuela and beyond
See another unpleasant history of U.S.  intervention  in  Venezuela here at  Telesur https://www.telesurenglish.net//opinion/The-History—and-Hypocrisy—of-US-Meddling-in-Venezuela–20190128-0016.html?
https://www.telesurenglish.net/opinion/Understanding-Venezuelas-Crisis-An-Interview-With-Guillaume-Long-20190129-0005.html
https://www.greenleft.org.au/content/venezuela-why-capitalism-not-socialism-blame-corruption?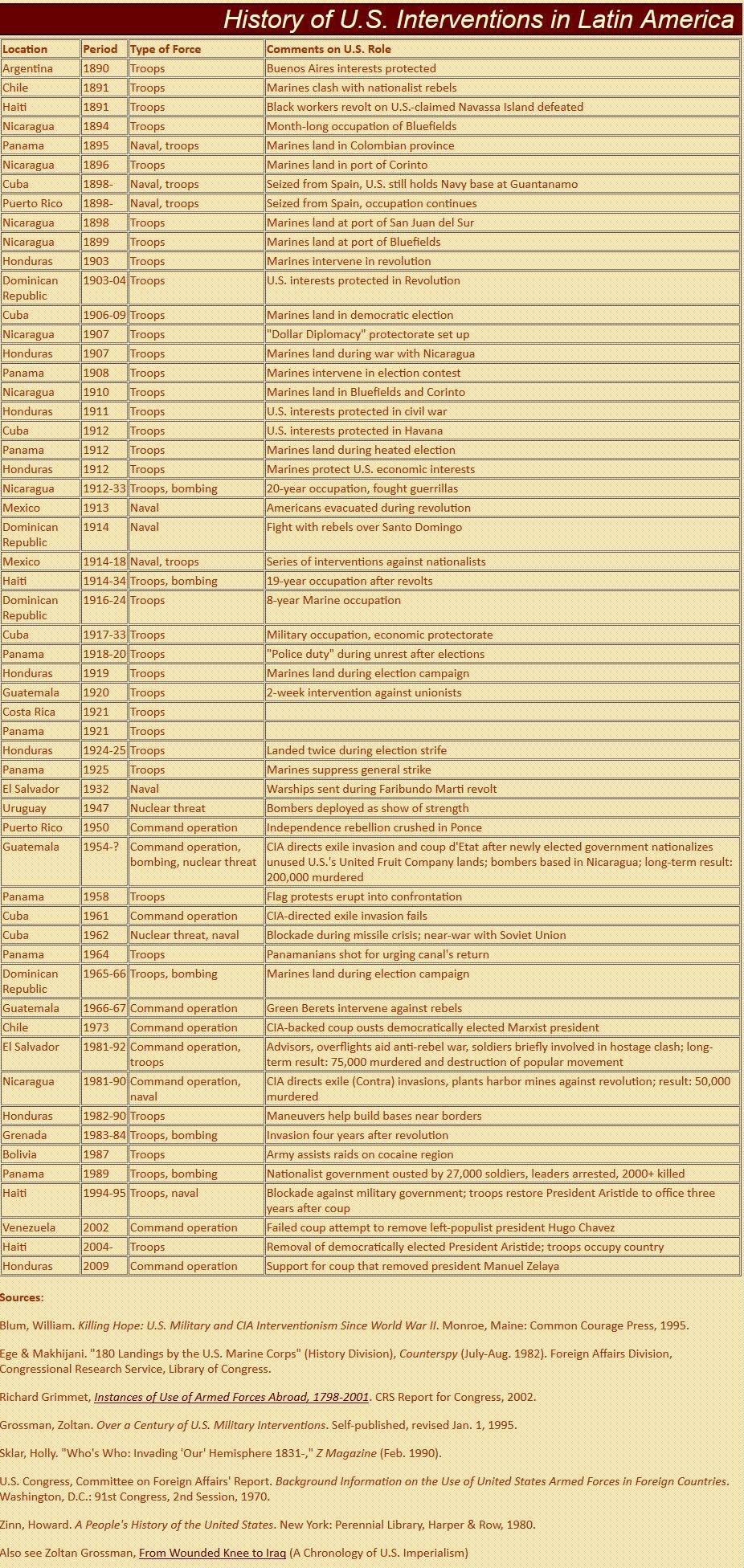 Or read David Pear's analysis that  this is essentially   a racist  counter-revolution http://www.unz.com/article/us-and-canada-are-backing-an-elite-white-supremacist-minority-in-venezuela/ 
---
Links
https://en.wikipedia.org/wiki/Juan_Guaid%C3%B3
The Making of Juan Guaidó: US Regime-Change Laboratory Created Venezuela's Coup Leader
https://venezuelanalysis.com/video/14253
https://www.telesurenglish.net/opinion/Ongoing-Coup-in-Venezuela-What-If-Same-Scenario-Happens-in-France-20190126-0007.html
https://www.telesurenglish.net/news/Bank-of-England-Refuse-to-Return-US1.2BN-Venezuelan-Gold—20190127-0003.html
Yet Another U.S. Coup Attempt to Eradicate the Bolivarian Revolution
Venezuela's US-Backed Coup Leader Immediately Targets State Oil Company and Requests IMF Money
US Backs Coup in Oil-Rich Venezuela, Right-Wing Opposition Plans Mass Privatization and Hyper-Capitalism
https://www.telesurenglish.net/news/Bank-of-England-Refuse-to-Return-US1.2BN-Venezuelan-Gold—20190127-0003.html
'Resistance' Media Side With Trump to Promote Coup in Venezuela
https://www.moonofalabama.org/2019/01/venezuela-trumps-coup-attempt-is-based-on-a-seriously-flawed-plan.html
https://www.independent.co.uk/news/world/americas/venezuela-us-sanctions-united-nations-oil-pdvsa-a8748201.html
Your Complete Guide to the N.Y. Times' Support of U.S.-Backed Coups in Latin America