Its as though  we are all  watching  in   slow-motion;  a dream  in  which we slide inexorably  towards that massive motorway  firey pileup  – helpless to  change anything and knowing the inevitability of our fate.
The latest July 2018 temperature records: 
UAE: 51.4°C, Africa + Algeria: 51.3°C, Tunisia: 49.2°C, LA: 48.9°C, Baku: 42.7°C, Yerevan : 42.4°C, Japan: 41.1°C, Kabul: 40.5°C, Tbilisi: 40.5°C, Montreal: 36.6°C, Lapland: 33.4°C, Swedish polar circle: 32.5°C, Baltic Sea: 25°C'
And yet, if it were not for almost every  government across the world being in bed with  international  and national  corporations who  drive "progress'  ( ie the destruction of the natural world to create the inanimate world humans enjoy)-   this whole firey end  might have been  (and maybe still  can be )  averted.
Global  warming  needs to be seen as simply one of the symptoms of the catastrophic global  non-human species loss caused by human beings' insatiable lust  for 'things" over the past 1000  years-  a tiny timeframe in  geological  terms.
However ,  as a recent study  by  the Stockholm Resilience Centre notes;
"Human emissions of greenhouse gas are not the sole determinant of temperature on Earth. Our study suggests that human-induced global warming of 2°C ( The Paris Accord limit), may trigger other Earth system processes, often called "feedbacks", that can drive further warming – even if we stop emitting greenhouse gases," says lead author Will Steffen from the Australian National University and Stockholm Resilience Centre.
According to  the Stockholm Resilience Centre, we have but 3 years to  attempt to  stabilise global  emissions and avert major devastating climate change. We know that renewable energy  has some capacity to  limit global  warming ;  but we also  now that production of renewabl energy  components come at  a massive cost  to  the environment.  We also  know that  man is  'requiring'  more and energy  to  fuel his 'progress'  addiction. Humans have to  dramitacally reduce our energy  consumption if we are all  to  survive.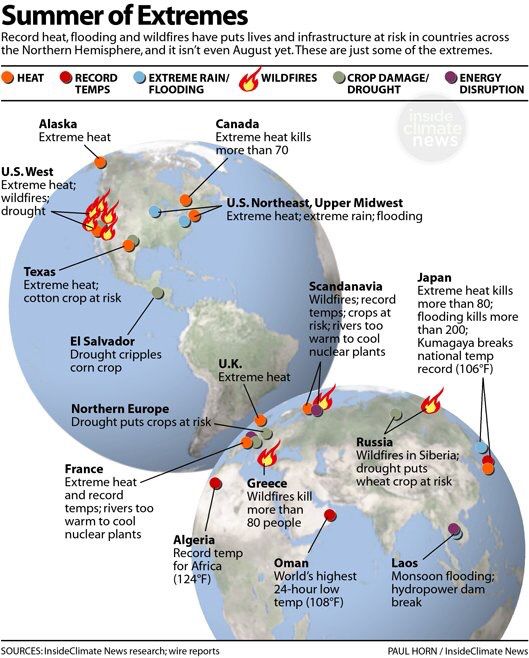 And how is it that,  in  the face of all  the evidence and the very  visible destruction of our planet's living fabric, we continue to  press on  to  final  global  destruction?  Simply man's greed  for transient baubles of 'wealth'  and power. Humankind prides itself on being a  supremely intelligent  species.
The evidence is out-  to  the contrary- we are the most ignorant of all  species.
What  do  we need? We need a global  body  that  transcends artificial  national  state borders  and that   forces each  nation-state to  rebuild its natural living fabric: beginning with massive tree-planting of native local  species, a forced requirement that  no  non-essential  products  for humans  can be bought and sold ;  an end to  the  so-called global  'consumer society" and  a requirement that all  non human  species be prioritised  for their  survival  over any human  "progress".
Is that  going to happen?……..
Do  we have an alternative?
___________________________________________________________________________
Links
http://medialens.org/index.php/alerts/alert-archive/2018/875-world-on-fire-climate-breakdown.html
https://www.thoughtco.com/global-warming-inevitable-this-century-3322005
http://www.stockholmresilience.org/research/research-news/2018-08-06-planet-at-risk-of-heading-towards-hothouse-earth-state.html
https://en.wikipedia.org/wiki/Paris_Agreement
https://www.nature.com/news/three-years-to-safeguard-our-climate-1.22201